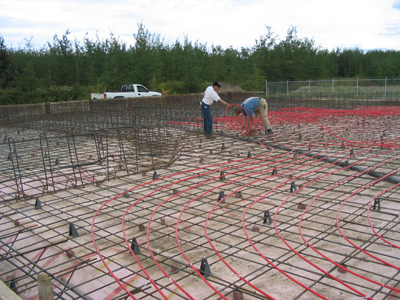 Shaper Sheet Metal Ltd. is celebrating twenty-six years of heating the North.
Located at the geographical center of the province, we are strategically positioned to service the heartland of British Columbia.

As one of a select few contractors certified by TECA in all three disciplines: Forced Air, Ventilation, and Hydronic – we offer the highest certified and best trained design and installation team in the region, whatever energy you choose – Geothermal, Heat Pumps, Natural Gas, Propane, Electric, Wood, or Pellets.
Shaper Sheet Metal Ltd. has the expertise to design and install the most efficient type of heating system for your Residential, Commercial, or Institutional building including Forced Air, Hydronic, Infloor, Hot Water, Ventilation, Air-Conditioning , and Exhaust Systems.
Shaper Sheet Metal Ltd. is dedicated to staying on the cutting edge of industry technology. In 1992, the company was the first in Northern BC to implement SDS software and a plasma cutting table, and continues to lead the way in technology today by providing cutting edge design systems that save energy, reduce dependence on fossil fuels and emphasize a "greener" future.
CERTIFICATION
Sheet Metal Journeymen
Licensed Gas Fitters
TECA – Hydronic Systems Design
TECA – Ventilation Systems Design
TECA – Forced Systems Design
BC Gas Contractor Licence
BC Boiler Contractor Licence
BC Electrical Contractor Licence
Econar Geotherm Heat Pumps
Hydro Delta Geotherm Heat Pumps
HVAC Control Wiring
Canadian Construction Association – Gold Seal Certified
WETT (Wood Energy Technical Training)
CHC - Canadian Hydronics Council